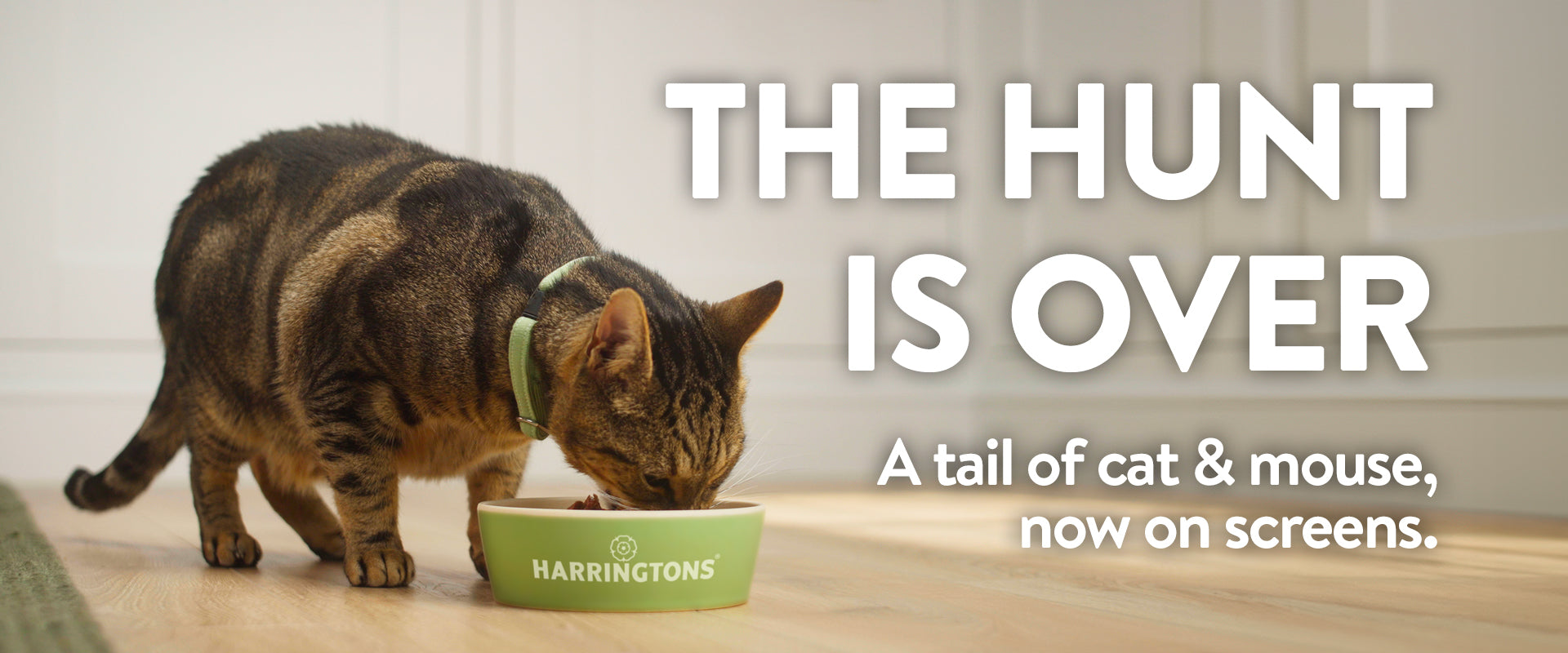 NATURALLY MEATIER MEALS
Did you know that your cat needs meat to survive and thrive?

That's right, cats are what scientific boffins like to call 'obligate carnivores', meaning they can't be vegetarian and need a meat-based diet to stay fit and healthy.
Naturally Meatier Meals

At Harringtons, we believe in Naturally Meatier Meals. Whilst we cannot guarantee your little hunter won't bring in any 'gifts', we can guarantee that our fillets are packed with 80% freshly prepared meat ingredients.

Packed with Animal protein

Gently cooked in a delicious jelly or gravy, our fillets are packed with highly digestible protein.

In fact, each recipe contains 100% animal protein to ensure they get the ideal balance of essential amino acids like Taurine, which they cannot create for themselves.

Natural with No Nasties

We believe this is best, which is why we our recipe is grain free and contains no unnecessary vegetable proteins that they wouldn't enjoy in the wild either.

We only use natural ingredients with added vitamins and minerals and never add artificial colours of flavours, so with Harringtons you can sleep easy, knowing they're getting all the natural, meaty goodness they need.
To help you choose the best cat food for your cat, we've created a table of the best-selling brands in the UK grocery market to show you what each product contains vs. Harringtons. If you have any questions, please don't hesitate to contact our Customer Services Team who are on hand to help Monday to Friday, 9am-5pm.
Harringtons

Felix As Good As it Looks

Whiskas

Gourmet

Sheba

Meat and Animal % in Fillets

80%*
40%
?
?
?

Freshly Prepared Meat Ingredients

No - Meat and Animal Derivatives
No - Meat and Animal Derivatives
No - Meat and Animal Derivatives
No - Meat and Animal Derivatives

Total Meat and Animal %

32%
12%
35%
14%
4%

Animal Protein %

100%
?
?
?
?

Natural

94%

Grain Free Recipe

Affordable for everyday care (RSP/pouch)

40p/pouch

(40 x 85g = £16)

37p/pouch

(40 x 100g = £14.95)

34p/pouch

(40 x 85g = £13.75)

42p/pouch

(40 x 85g = £16.75)

46p/pouch

(12 x 85g = £5.50)