Vet endorsed pet nutrition, naturally enhanced for your dog's health & well-being.
We believe every pet deserves a healthy, nutritious diet that meets their needs. That's why we have partnered with Peter Wright from the Yorkshire Vet to help us create Harringtons Advanced Science Diet. A range of advanced nutrition products tailored to the specific requirements of your dog.
Shop the range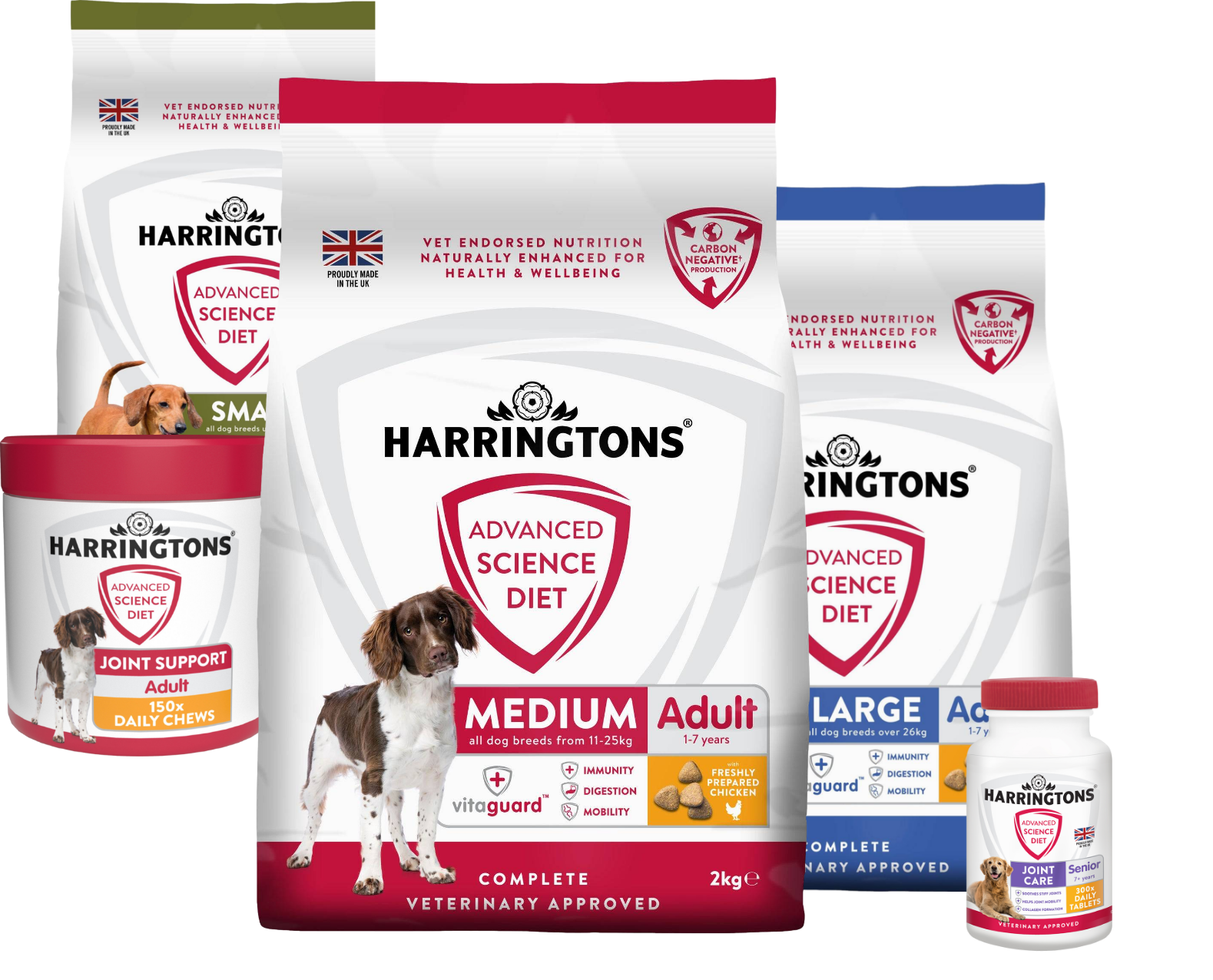 "I've been involved with Harringtons since they were founded in 2008, and now I feel extremely proud to have worked with them on these advanced recipes with specific health benefits covering digestion, immunity and skin & coat conditions, that are affordable to all."
Play Video
Helps to boost immunity and support digestion and stool quality
Through our proprietary mix of natural prebiotics and probiotics, vitamins and minerals
Maintains skin and coat condition
Through a balanced ratio of Omega 6 & 3 oils
Helps support mobility and joint condition
With added glucosamine and chondroitin
Healthy food that tastes great too
With high quality, easily digestible freshly prepared chicken cooked in a delicious chicken gravy
Our Superior Recipe
Developed to provide advanced care for your pet to keep them (and your wallet) happy and healthy. Manufactured with care and carbon negative production.
Harringtons Advanced Science Diet Small Breed

Hills Science Plan Adult Small and Mini Breed

Royal Canin Mini Adult

All About Dog Food Score

68%
58%
35%

Adapted energy
(Increased Protein)

Omega essential oils for healthy skin & coat

Meat No.1 Ingredient

Supports immunity

Freshly prepared chicken in every bowl

Pre and probiotics for improved gut health

Available in supermarkets nationwide

Vet/Specialist
Stores/Online
Vet/Specialist
Stores/Online

Affordable for everyday care (£/kg)

£8.79/kg

(1.5kg bag = £13.19)

£7.20/kg

(2kg bag = £14.39)
Trust in science for advanced care
Take care of your pooch from nose to tail with this delicious, naturally enhanced recipe
Available to buy online now
Vet-endorsed joint care and support supplements for adult and senior dogs
Available as easy-to-swallow tablets or tasty meaty chews that can be taken directly from your hand or added to your dog's food